---
Hi Doc,
I'll assume you know that Fred Gehrke passed away a couple days ago. Interestingly, about all they say about him is that he once played for the Broncos. No mention of his helmet painting for the Rams. Is this the same man?

Thanks.
Dear Sir,

The Fred Gehrke that recently passed away is the same man who first painted horns on the Ram's helmets. For more about this man click on the "Helmet News" button on the Helmet Hut website or just click here
---
Hi Dr. Del Rye,
Great to see Bradshaw and Dorsett's Rawlings "ridge" helmets from their Super Bowl days. But what was the purpose of the ridge on that helmet design?
Thanks, Ed
Dear Ed:
Rawlings felt that by significantly increasing the thickness of just the ridge area of the shell it would provide needed strength to the shell's weakest area while not adding additional unwanted weight to the rest of the shell. Actually if you closely examine any shell you will find that the ridge area is slightly thicker than the rest of the shell. The ridge area of the shell needs to be stronger because it absorbs the extreme force that originates from the facemask and chinstrap during a game. Also the holes that are drilled into the ridge area to accommodate the facemask, chinstrap and jaw pad hardware further weaken this area. Although the radical design of the Rawling's model "HND-9" (with "ridge" shell) seemed to make sense from an engineering standpoint it never caught on with the players. After its introduction for the 1977 season the "HND-9" was reintroduced for the 1979 season with the same inner padding but with a conventional round shell.
---
Hi Doc,
I am inquiring about some help on the early 40's Rams helmets. I have seen many pictures of these helmet but of coarse they are all in black and white. I was wondering if you may know if they used a white or yellow "knobby" rams horn that hooks before the ear hole. Any help would be greatly appreciated. Eric
Dear Eric:
The horns first appeared on the Ram's helmets in the 1948 season and they were hand painted yellow, smooth edged (not "knobby") and hooked below or under the ear hole. Ironically all of the 1948 helmets were leather because the league banned the use of plastic helmets that year. The next season plastic helmets returned and the and the horn actually hooked before (on the top side of) the ear hole. Looking at photographs from that 1949 season some parts of the horns such as the outer edge appear to be "knobby" while the underside seems to be more smooth. The color of the 1949 horn is definitely yellow. In 1949 black and white photos the shade of the horn approximates the shade of their jerseys and their jerseys during that entire era were yellow. In 1950 the Rams wore the now conventional style yellow, smooth horns (hooked under or below the ear hole) and retained that look until 1964 when they eliminated yellow from their team colors and introduced the white colored horn. The yellow horn was reintroduced in 1973 and later changed to gold in the 2000 season. Perhaps these pictures from the 1949 season will be of some help: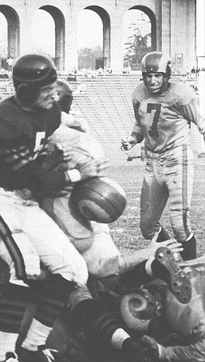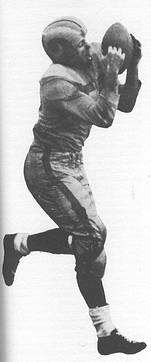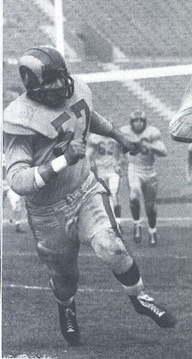 ---