Frequently this author has noted that prior to Florida's population boom in the 1970s and '80s, the in-state high schools could not provide the local universities with enough home grown talent to sustain long term gridiron success. Certainly many teams that represented the three major college powers, Miami, Florida, and Florida State were of national ranking quality but a consistently high level of success was difficult to maintain until Florida became a residential destination that altered the entire economy and culture of the state. This is not to imply that Florida was bereft of great scholastic teams or outstanding players but it took a national population migration to affect the high school and collegiate football landscape. Among high schools, the primary population centers of the Miami-Dade County and Tallahassee areas predictably provided the best of schoolboy gridiron action and college ready players. One of the legendary coaches at that level was Nick Kotys whom like many eventual Florida residents of the 1950s, moved there after achieving success elsewhere.

<![if !vml]>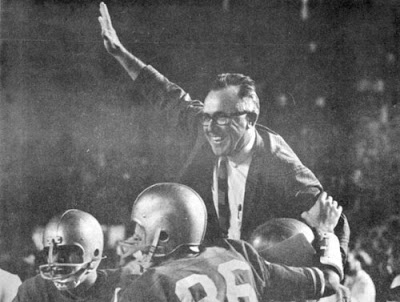 <![endif]>

Described by his players, coaching colleagues, and all who knew him as "a gentleman," he was also one of the most inspiring coaches because of his ability to teach and communicate with young people. Certainly he was typical of so many who were Florida residents in that he was not native to the state. Kotys was a product of Monessen, part of the southwest Pennsylvania steel producing region that for decades churned out football players who were among the best in the high school, collegiate, and professional levels. The slow death of the steel producing and related industries that began in the early 1960s and terminated with the closure of Monessen's Wheeling-Pittsburgh steel plant drove many residents out of state and perhaps the Kotys family was fortunate to stay ahead of the trend. This Villanova true student-athlete was successful as a teacher and football coach at a number of Pennsylvania high schools where he compiled a 98 – 24 – 7 record. He entered the collegiate coaching ranks as the Offensive Coach as the coordinator designation used to be applied, at Yale University in 1949 under Herman Hickman. When the staff was relieved of its duties at the conclusion of his one season on campus, Kotys was asked to coach in numerous collegiate all-star games due to his obvious acumen. By 1952 the family had relocated and he was the head football coach at Coral Gables High School replacing Joe Krutulis whose wife Marian was a famed educator in Florida. When she reorganized and became owner and director of the Gulliver School, Krutulis became the athletic director and essentially the founder of completely new athletic programs. Kotys meanwhile immediately put Coral Gables back on a winning track and as is often said, "The Rest Is History!"
It was noted that Kotys' 1953 squad gave the community "the greatest season in the history of the school" and by 1954 Kotys had his Cavaliers ranked third in the state. From that point forward until the coach's retirement following the 1971 season, Coral Gables High School was elite, dangerous, and almost always considered to be among the best the state had to offer. The 160 – 33 – 9 record speaks for itself but more than that Coach Kotys ignited school spirit, changed the lives of his best and least contributing players, and made a significant difference in the community. What many of HELMET HUT'S younger readers do not realize is that prior to the mid to late-1960s and in some cases into the 1970s, many states did not have an "official" state champion and some were late going to a multiple class system based upon school size. While one can state that any championship honors that were bestowed prior to a "true playoff system" should be denigrated relative to those won after the organization of state athletic oversight or rankings by bodies such as USA Today or MaxPreps, allow this author a comment based on a bitter truth.
____________________________________________________
HISTORICAL INSERT: CRAIG CURRY AND THE 1967 CAVALIERS

<![if !vml]>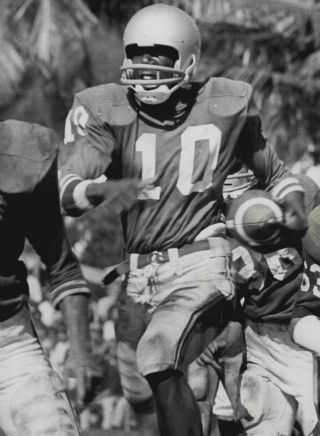 <![endif]>
Quarterback Craig Curry, one of the nation's most highly recruited players, was the University of Minnesota starting signal caller in 1969, '70, and '71, leading the conference in total offense as a senior. Before attending Minnesota he fearlessly crossed the color line at home in order to attend Coral Gables High School and is very much credited with easing racial tensions and assisting integration of the school. Curry's athletic success was in synch with the way in which Coach Kotys' carried himself which led to uneventful integration. Kotys viewed his newly enrolled athlete as a football player, not a Black football player and thus Curry has bestowed credit upon his former high school coach. Curry noted that Kotys very much ignored the racial tensions of the city and stated, "Fortunately I had a coach that lived up to the creed that the best man gets the job. He made some decisions at a time that were not popular. I've got to believe that some people on his side of the tracks were not too happy." It proved to be a match made in Gridiron Heaven.
At the conclusion of the 1967 season, quarterback Curry had led Coral Gables High School to the Florida large school championship and the designation as the nation's number one high school football team. The summary was best stated by the Florida High School Athletic Association when they named the '67 Cavaliers their choice as Team Of The Century:
"The Florida High School Athletic Association, as part of its '100 Years of Florida High School Football' celebration, tonight named the 1967 Coral Gables High School Cavaliers as Team of the Century.
The award was presented by the FHSAA during a ceremony honoring the by-decade Teams of the Century at halftime of the Class 6A state championship game at the Florida Citrus Bowl Stadium.
Legendary coach Nick Kotys, who coached four different Coral Gables teams to national championships, called the '67 Cavaliers his best team ever. They shut out nine of 13 opponents by a composite score of 410-26, and defeated Wolfson High School of Jacksonville 21-7, (on December 15, 1967) to win the Class 2A state title (then the largest classification). Finishing the season 13-0, the '67 Cavaliers were the second of three Coral Gables teams crowned national champions during the 1960s."
________________________________________________________________

Decades ago as a successful high school coach, the author read a nationally distributed magazine that presented "the best" college football prospects in each state. Although our state and specifically our area had relatively few players of national college recruiting talent, we have certainly had some who are ensconced in both the College and Pro Football Halls Of Fame and who attained All American and/or All Pro status. While reading the "State's Most Highly Recruited" players' listings, I came across three from one high school. In today's world of high school recruiting, we are presented with the IMG Academy types of powerhouses who can accumulate numerous college prospects on any season's squad but thirty or more years ago, outside of the great high school football hot beds of Texas, Florida, California, or Ohio no one school would have three legitimate "big school" or Division 1 college prospects. Certainly there has probably never been a high school in our area that had three major college seniors on any one squad and the school that was noted in this specific article was not a football power nor did they have even one player of major college ability that any of our coaches were familiar with. As we did have a player who was being recruited by Purdue and some other schools of that caliber, I was curious and admittedly selfish in wondering how he had been left off of this so-called "top player list" while three truly unknown youngsters were being touted as potential high school All Americans. I was moved to call the California service and introduce myself as an area coach who was in fact wondering how a player made their nationally published list. I was told that "we have contacts and know about all of the best players in the nation." I noted that the three potential All Americans they listed came off of a 4-4, non-playoff team from the season before and at 160 pounds, one of those listed as a linebacker was not ever going to play Division 1 college football. I of course asked how our potential Big Ten candidate had missed the list and was berated for knowing little to nothing about college recruiting even though I lectured and consulted at a number of Division 1 college football programs on an annual basis. My immediate thought was "I guess it's who you know…" and the reader can fill in the rest.

<![if !vml]>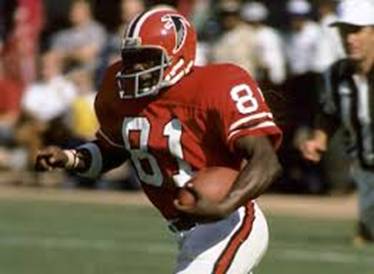 <![endif]>

Gerald Tinker was another of Coach Kotys' success stories. Leaving Coral Gables High School after superb performances in football and track he first attended Memphis State University but transferred to Kent State where he fully blossomed into a 1972 Olympic Gold Medal Winner and a subsequent two year NFL career with the Falcons and Packers
The so-called unofficial state champions were often more closely scrutinized, criticized, and held to a much higher standard in order to capture their titles than the necessity of slogging through a playoff system that might offer but one difficult in-season game and one challenging playoff game. This in no way is a criticism of those teams that earned their championships within the structure of a playoff system but instead is meant to avoid criticism of those teams that were deemed state or national championships "unofficially." Coach Kotys and his Coral Gables teams won unanimous "mythical" newspaper writer polls drawn from the entire state of Florida titles in 1956 and 1958 and another four after the introduction of a sanctioned playoff system in 1963, '64, '67, and '68. His Cavaliers added five national titles as determined by sportswriters across the nation in 1956, 1964, '67, '68, and '69. Under any and all determinations, Nick Kotys had built a perpetual powerhouse program that utilized boys from the home school district and he was instrumental in integrating both the athletic programs and student body in the mid to late 1960s when Florida was still considered to be a center of racist activity and racial divide. After twenty years at Coral Gables High School he retired and was inducted to the Florida Sports Hall Of Fame and he was named the All Century Team Coach by the Florida High School Athletic Association in 2007.
Although Kotys was in fact blessed with some large players, some with fantastic athletic ability, some with great speed, and some with all of the above noted attributes, his teams usually were a mix of average players, average athletes, moderately sized youths, and the occasional superior player. Some like 140 pound quarterback and future University Of Florida standout Larry Rentz despite his limited size, fell into the latter category as a superior athlete while mammoth lineman Frank Lasky, a future New York Giant, was atypical for the Cavalier team. Large or small, quick or slow afoot, Coach Kotys had a knack for molding young boys into men and good squads into champions.
Part 2 next month